Why need an Android Spy Software?
Are you worry about your your boyfriend or girlfriend not back at all last night? Are you worry about your child or elderly parents got lost? Suspect your husband is having an affair? Android Spyware, help you solve all the problems: Android Spy Software is a hybrid software/service which allows you to monitor your smartphone in real time. This unique system records the activities of anyone who uses your Google-powered device. You install a small application. It starts at every boot of the phone but remains stealth.
Android Spy App – Fast, accurate and effective monitoring solution. With this best Android Spyware, you can read messages (Text messages/SMS), monitor chat tools (WhatsApp Chat, Skype), record calls, track location, spy web browsing, and so on. It is like a private detective, will report all movements to you.
What the Android spy software can do for you?
Prove Your Spouse Is Cheating
If you suspect your spouse of infidelity, you can take steps to find out the truth, though this may mean becoming deceptive, as well.
Read Emails
Need to track someone's email communication? Use Android Email spy app to read the content of each email and check every email address the user have contacts with.
Keeping Kids Safe Personal Safety
For most of the year, children spend more time at school than anywhere else other than their own home. At school, children need a secure, positive, and comfortable environment to help them learn.
Protect your company from leaked trade secrets
The impact data theft has on businesses can be devastating. For example, customer databases are often stolen by employees and then used to start up new businesses which are then able to compete on a level footing without having to invest any time or money building and developing a database of its own.
You Can Stop Your Spouse Extra-marital Affair
To save your marriage when your spouse is having an extra marital affair is undoubtedly tough, but with time, tenacity, patience, understanding and a lot of love you could emerge as the winner in the race.
Read communication tools chats
Why do you need Skype, Facebook, WhatsApp spy app? Android tracking software will secure your family and business! View any chat messages and be sure that no one is lying to you.
Monitors Global positioning system place
You'll be able to locate the target device and check the rout history at any given moment. All the GPS tracking details will be visible on a convenient map.
View monitored phone pictures and videos
View every photo or video taken using the phone camera and check any multimedia files the user downloads to the device or receives from others.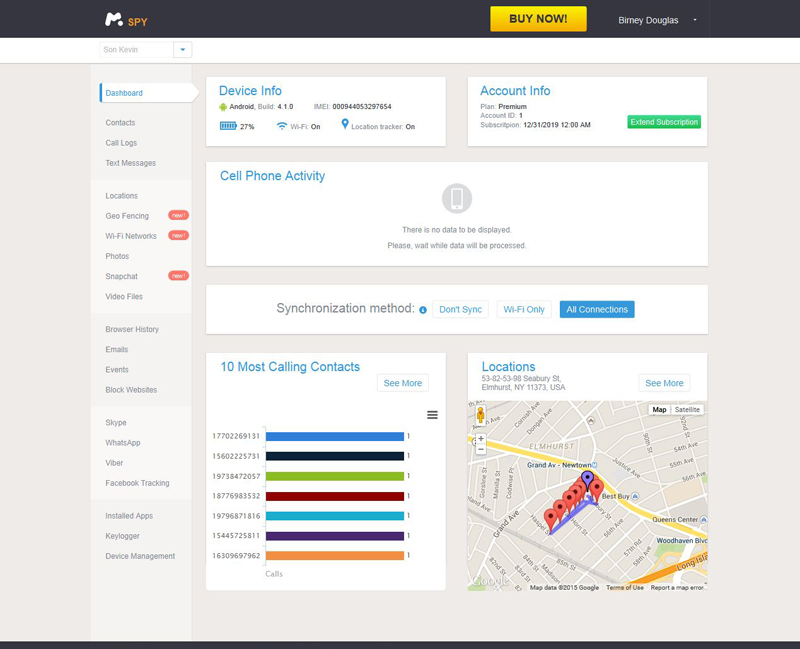 Free download Android Spy Software

Android Mobile Spy Software
You can install the Android spyware into any Android mobile (Galaxy S10, Galaxy Note 9, HTC U12, LG G8 ThinQ, OnePlus 7, etc.) that you plan to monitor, and nobody except you found this software after installation. When you want to view results, simply login to the Online Control Panel from any computer or phone web browser and enter your username and password to proceed.
Android Spy Software is designed for monitoring anyone on a smartphone or mobile device that you own or have proper consent to monitor. You are required to notify users of the device that they are being monitored. If you attempt to use Android Spy App to monitor an Android smartphone you do not own or have proper written consent to do so by the owner of the mobile, you maybe breaking local, federal and state laws. In such case we will co-operate with the law officials to full extent. This spy software for Android mobile does not assume any liability for any misuse or damages caused by our spy app. It is the responsibility of the buyer to obey all laws of their country and use Android spy software legally.
Hot searchs: android spy software, android spyware, monitor on android smartphone, spy on android smartphone, android spy software free, free android spy apps, android spy software free trial, android spy software reviews, android spy software freeware
Supported Android Devices:
| | |
| --- | --- |
| Samsung | Galaxy S10, Galaxy S10+, Galaxy S10e, Galaxy S9/S9 Plus, Galaxy Note 9, Galaxy Note 8, Galaxy Note 10, Galaxy S7, Galaxy S8, Galaxy S4 Mini, Galaxu A8, Galaxy A7, Galaxy A9, Galaxy A5, Galaxy A70, Galaxy A10/A10e, Galaxy A50, Galaxy A40, Galaxy A20/A20e, Galaxy M40, Galaxy M30, Galaxy M20, Galaxy M10, Galaxy L4/J4+, Galaxy J6/J6+, Galaxy J5, Galaxy J3, etc. |
| HTC | HTC U19e, HTC Desire 19, HTC U12 Plus, HTC U12 Life, U11, One M8/Remix/Max, HTC One Mini, HTC U11, HTC Bolt, HTC U13, etc. |
| LG | LG G7 ThinQ, LG G8 ThinQ, LG V5 ThinQ, LG V35 ThinQ, LG V40 ThinQ, LG V30/V20/V10, G6/G5/G4G3/G2, LG G Pro 2, etc. |
| Huawei | Huawei nova 5/5 Pro/5i, Y9 Prime, P20 lite, Mate 20 X 5G, P Smart Z, P30/P30 Pro/P30 Lite, nova 4e, Y5, Enjoy 9e, Enjoy 9s, Y Max, Huawei Y6/Y7/Y5, etc. |
| Google | Google Pixel 3a, Google Pixel 3a XL, Google Pixel 4, Google Pixel 4 XL, Google Pixel 3/3 XL, Google Pixel 2/2 XL, Google Pixel, Pixel XL, etc |
| Xiaomi | Redmi 7A, Mi CC9e, Mi 9T, Redmi K20, Redmi K20 Pro, Redmi Note 7S, Redmi Y3, Redmi 7, Redmi Note 7 Pro, Mi Mix 3 5G, Mi 9 SE, Mi 9, Redmi Go, Redmi Note 7, Mi Play, Mi Mix 3, Redmi Note 6 Pro, Mi 8 Pro, Mi 8 Lite, Pocophone F1, etc. |
| Nokia | Nokia 1/1 Plus, Nokia 3.1 C/3.1 A, Nokia 2.2, Nokia X7, Nokia 9 PureView, Nokia 4.2, Nokia 3.2, etc. |
| Sony | Xperia XZ3/XZ2/XZ, Xperia Z3, Xperia Z2, Xperia Z, Xperia L1, Xperia U Ultral, Xperia 10, Xperia 1, Xperia 10 Plus, Xperia L3, Xperia A2/A2 Plus/A2 Ultra, etc. |
| Motorola | Moto One Vision, Moto Z4, Moto G7/G7 Play/G7 Power, Moto e5/e5 Play/e5 Plus, Moto P30, Moto G6, Moto e4, Motorola One/One Power, Moto G5, Moto Z3/Z3 Play, Moto X, Moto Z2, Moto G5s, etc. |
| OnePlus | OnePlus 6T, One Plus 6, OnePlus 5/5T, One Plus 3, OnePlus 3T, OnePlus 7, OnePlus 7 Pro/7 Pro 5G, OnePlus X, OnePlus One, OnePlus 2, etc. |
| Asus | ZenFone 6, ZenFone Live (L2), Zenfone Max/Max Plus/Max Pro, ROG Phone, Zenfone 5/5z , K9, Z5, A5, K5/K5 Play, S5, K8/K 8 Plua, etc. |
| Lenovo | Lenovo Z6/Z6 Pro/Z6 Youth, K6 Enjoy, S5 Pro/S5 Pro GT, Z5s/Z5 Pro GT/Z5 Pro, ROG Phone, Zenfone 5/5z , Zenfone 4/4 Pro/4 Selfie/4 Max, etc. |
| Apple | iPhone XS Max, iPhone XS, iPhone XR, iPhone 8/8 Plus, iPhone 7/7 Plus, iPhone 6/6 Plus, iPhone X, iPhone SE, iPhone 5/5S, iPhone 4/4S, etc. |
| Others | Honor, Oppo, Realme, vivo, Meizu, BlackBerry, Alcatel, ZTE, Microsoft, Vodafone, Energizer, Cat, Sharp, Micromax, BLU, Acer, Infinix, Tecno, Wiko, Panasonic, YU, verykool, Plum, Android Smartphones. |