How to monitor a new Samsung Galaxy Note 10 or Galaxy Note 10 Pro? Please recommend to me a safe and hidden monitoring app. I plan to monitor on my husband, I concluded that he was somewhat abnormal, I wonder if he was derailed. Is he having an affair? I'm so sick of all this.
The Galaxy Note 10 and Note 10 Pro are the hotly anticipated next flagship phablets from Samsung. There's no doubt that Samsung Galaxy Note 10 Pro will be the best Android phone of the year. If you plan to spy on someone's Galaxy Note 10 or Galaxy Note 10 Pro, you come to the right place. You'll get the best spy app for Galaxy Note 10/Note 10 Pro.
Spy software can be utilized to track a man without their insight. Stressed over what your children are up to on the web? You could introduce a free spyware on their Android device – Galaxy Note 10 or Galaxy Note 10 Pro. These monitoring app let you screen their social media, full access to their text messages, track their locations, and even record their calls. Every single recorded datum is put away on the web, so you can get it from anyplace.
There is a considerable measure of spy applications accessible for Android and iOS, yet just a couple are justified regardless of your opportunity. Here Samsung Spy App can fit your requirements. Right away, here are the best spy applications that you can use.
Galaxy Note 10/Note 10 Pro Spy App Interface: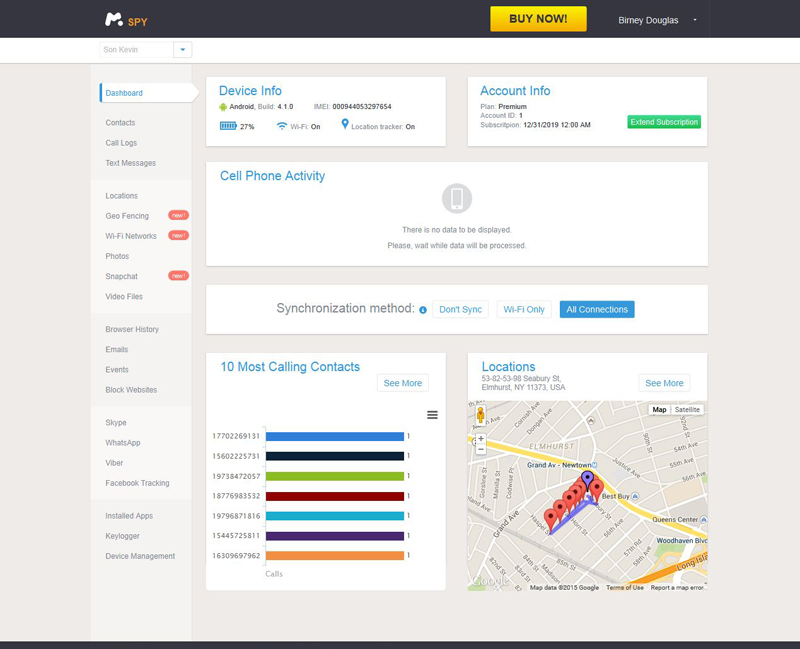 Parents often have trouble tracking their smartphone obsessed teens. If you're a concerned parent and it's a Galaxy Note 10 or Galaxy Note 10 Pro you're trying to monitor, look no further! Here is the right solution for you. It's android monitoring app works on all Samsung, HTC, Sony, LG, OnePlus, Huawei, Xiaomi, Motorola, Nokia phones. And it has been created with the best possible set of features. Once you're done downloading the Galaxy Note tracker app you can remotely get a taste of a plethora of data and information from your target smartphone. Here's a look at some of the best features Galaxy Note 10/Note 10 Pro Spy App has to offer:
FaceBook messenger/whatsapp/snapchat/skype and Viber chat logging
Logs of all incoming and outgoing text messages
Real-Time Location of Galaxy Note 10 or Galaxy Note 10 Pro
Browsing history with complete list of bookmarks
All pictures (whatsapp/snapchat )created on the phone
Call Details, contact lists and keylogger
Galaxy Note 10/Note 10 Pro spyware has an added advantage for its users because it works on ALL versions of Android. So whether you're trying to keep track of a Samsung phone with Jelly Bean or keeping a check on a Gingerbread, rest assured that this monitoring app has you covered. The superior android spy app from us can help you monitor every single Samsung phone there is. You can tune into a 24/7 relay of information and data from your target phone.
Get Samsung Spy App by clicking below button: